airport shuttles
Liberia Airport Transportation by LIR Shuttle. Private Shuttles From $49 USD.
LIR Airport shuttle service
LIR Shuttle provides Liberia Airport (LIR) shuttle services. We operate 24 hours a day and meet all flights – private and commercial. Additionally, all our vehicles are air-conditioned and meet or exceed quality and comfort standards. To request our services, please fill out our quote request form. We will then send you the price based on the information you provide. If you need immediate assistance, please call us at +506 8302-2524.
Reservation modifications
You can make modifications at any time before arrival. There are no penalties or re-booking fees. Also, our rates include free waiting time at the airport. So no changes are necessary in case of flight delays.
Baggage allowance
Technically, there is no maximum baggage allowance in our airport shuttles. You can fit as many bags and luggage as possible in our vehicles. But, we ask that you let us know if you will travel with overweight or oversized baggage. We need this information to choose the right vehicle for your shuttle service.
Traveling with pets
Traveling with pets is allowed in all our airport shuttles. For safety reasons, pets must travel in their pet carriers. But you can request stops to let your pet out if needed. Our drivers will be happy to accommodate your pets' needs. Moreover, there is no extra charge for pets traveling in our shuttles.
When to book your shuttle
We recommend booking your airport shuttle as soon as you book your flight to Costa Rica. However, we are flexible and can arrange transportation up to 6 hours in advance. If you are at LIR Airport and don't have a reservation, we can also help. Call or message us, and we will try our best to match you to the nearest driver and van. Although we don't guarantee availability, we will do our best to assist you.
Reservation/Cancellation Policy
1) Payment is due when you receive your reservation confirmation.
2) Reservations canceled less than 24 hours before arrival in Costa Rica incur a fee equal to the first transportation service in your reservation. The remaining services, if any, will be fully refunded.
3) Reservations canceled more than 24 hours before arrival in Costa Rica are eligible for a full refund minus a $9 processing fee.
4) Cancellations after arrival in Costa Rica are considered a "no-show" and are not refundable.
Car seats
All children under 36 kg in weight and 145 cm in height must use the appropriate car seat. We can provide up to two car seats per Liberia Airport shuttle service. The cost is $5 USD per car seat or booster. However, we recommend that you bring your car seats. Our drivers can assist with your car seat installation, but you must be familiar with it. Please note that not all vehicles have 3-point seatbelts. So plan on installing your car seat with only lap belts. Costa Rica regulations do not require 3-point seatbelts, only front seats.
Liberia airport shuttle vehicles
LIR Shuttle services use our fleet of SUVs, vans, minibusses, and coach buses. All are 2018 or newer and are air-conditioned for your comfort. They also meet or exceed international safety standards and are meticulously maintained to guarantee your safety and comfort.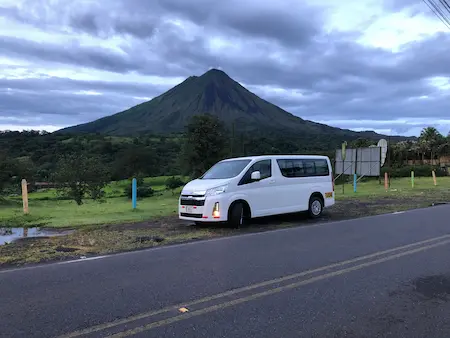 ---
Liberia Airport Transportation Guide
Booking Liberia Airport Transportation is pretty straightforward. However, many companies, local and foreign, offer these services. We hope the following information will help you when booking your airport shuttle. And if you have questions about transportation services from Liberia, Costa Rica Airport, we are always happy to answer them.
#1 advice: Book Your Liberia Guanacaste Airport Transportation in Advance
We strongly encourage visitors to book transportation services at least seven days before arrival. Booking in advance will ensure you are met at the airport after landing. It will also help you avoid overpriced transportation and unauthorized services inside and outside the airport. In addition, you will quickly get to your hotel, home, vacation rental, or Airbnb property.
Choosing a Liberia Guanacaste Airport Transportation company
The airport shuttle transportation industry is very competitive, and the Liberia Costa Rica Airport is no exception. To narrow your options, focus on companies offering genuine traveler reviews. TripAdvisor reviews are a great source, but keep in mind that many companies pay for positive reviews. As an alternative, we recommend Google Reviews. They offer a better insight into the legitimacy and reputation of a company.
Another aspect to take into consideration is communication with airport shuttle companies. Prompt, properly redacted emails usually mean better customer support and a credible operation behind the website. This is the most crucial factor when choosing who to hire for your transportation.
Compare prices
Airport transportation prices vary a lot. Doing a little research, we found differences in costs of up to $200 for the same service!!
See the following example:
Company A (see image below) charges $283 for a round-trip shuttle between Liberia Airport and the Tamarindo Diria Hotel. After some quick research, we discovered that Company B charges $160 round-trip for the same service – that is almost half the price! However, LIR Shuttle's price for this same service is $178 round-trip.
But the cheapest is not necessarily the way to go, either. Try to balance customer service and price to find the best company for your Liberia Airport Transportation.
When to book
Most Liberia Airport Shuttle companies will accept bookings up to 2 hours in advance (sometimes even less notice). So it is up to you to decide when to make your reservation. But we highly recommend planning with enough time. Book your Liberia Airport shuttle at least one week before arriving in Costa Rica.
What information do I need to book Liberia Guanacaste Airport Transportation?
Online booking is not yet the standard when booking transportation from/to the Liberia Airport. Most companies (including us) still do bookings the old-fashioned way through email. Whichever booking process makes you most comfortable, always ensure you have your correct arrival and departure flight information when booking.
We have had clients either make a reservation for a different date or confuse their flight numbers and arrival/departure times. Such mistakes cost travelers expensive re-booking fees after missing a departure flight or, at best, hours of waiting at the Liberia Airport because no one was expecting them when they arrived.
That is why you must ensure you are familiar with your flight dates, flight numbers, and arrival/departure times into and out of Liberia Airport (LIR) when making your reservation.
Payment methods
Most transportation companies working out of Liberia Airport will accept US cash and major credit card. A few will only accept cash payments. Ask ahead of time what kind of payment is preferred.
We do not recommend exchanging money to pay for your Liberia Airport transportation with the local currency (Costa Rican colones). If you exchange before getting to Costa Rica or the airport, you will get a disadvantageous exchange rate. So, bring US currency with you if you plan to pay in cash.
Avoid double bookings!
Double bookings for airport shuttles are more common than you think. And we have identified the two most common reasons for this to happen:
Confusing the name of a company: Since there is a lot of competition between Liberia Airport shuttle companies, most will look for an edge by using closely related keywords as their business name. To avoid very uncomfortable situations at the airport, always make sure you have only one reservation. You can always cancel one of the services if you find a double booking. Most companies do not have penalties for doing so and will appreciate the advanced notice of cancellation.
Lack of communication between passengers when booking: Read this as one person makes a reservation without telling the other about it. Yes, it sounds simple, but it often happens in large groups. To avoid this, designate one person in your group who is in charge of booking your airport shuttle.
Private vs. Shared Liberia Guanacaste Airport Transportation
You've probably come across many sites offering either shared or private transportation. Let's look at what you can expect for either service to determine which is best for you:
Pricing
The majority of Liberia Airport shuttle services are private. That means you hire a vehicle where you, or your party, will be the only passengers and will be taken directly to your destination as soon as you exit the airport. This service's most apparent disadvantage is that it is more expensive than shared shuttle services. However, if your party consists of 3 or more passengers, the private shuttle might be cheaper than the shared shuttle.
Let's look, for example, at the shared shuttle between LIR Airport and La Fortuna. The rate per person for this service is $59 and departs daily at 8 AM. For a group of 2, the total rate will be $118, about $40 less than what comparable private services will cost. In this case, if there are three or more passengers in your party, the shared shuttle becomes more expensive than a private one.
Convenience
Pricing aside, the private shuttle is convenient because it will go directly to your destination, with no additional stops or waiting for other passengers. Remember, not everybody is as punctual as they should be, which could cause delays with shared services. If time is not an issue, and you are traveling solo, or in a group of two people, then the shared shuttle could be your best option. At the very least, it is a great way to meet other travelers going to the same destination.
Book shared shuttles at least seven days before arrival. Also, consider that shared shuttle fares are not refundable in case of flight delays. If you miss your shuttle, you pay in full – plus any alternative transportation you arrange. Private shuttles, on the other hand, offer more booking and cancellation flexibility. You can book most within hours of arrival, and cancellation policies are much more relaxed.
We hope this information is helpful. Please let us know if you need assistance booking Liberia Guanacaste Airport transportation. We will be happy to assist you.
---
Liberia airport shuttle FAQs
What are your COVID-19 cleaning protocols?
Our vehicles are thoroughly cleaned and disinfected after each service. Further, drivers and passengers must always wear masks inside our cars. In addition, hand sanitizer is available onboard for all passengers and drivers to use.
Do you offer transportation to the Nicaragua border?
Yes. LIR Shuttle offers private transfers from Liberia Airport to Peñas Blancas (Nicaragua Border). Rates start at USD 99, and travel time is approximately 1 hour and 40 minutes. When booking this transportation, you must consider that the border closes at midnight.
Are shuttles between LIR Airport and Four Seasons available?
Yes. Private airport transfers from LIR Airport to the Four Seasons Resort start at $79 USD, one-way.
Do you offer early morning and late-night transportation?
Yes. Our shuttles run 24/7. Therefore, booking early morning or late-night transportation to Liberia Airport is not a problem.
Can we stop at a grocery store on our way to our destination?
Yes. Our drivers will be happy to stop at a grocery store for you. There is no extra cost as long as it is on the way to your destination. We can coordinate a stop for you if there are no grocery stores on the way to your destination. But, this will incur an extra charge.
How much is a private shuttle between Liberia Airport and Tamarindo?
LIR Shuttle's private transfers to Tamarindo start at USD 89, one-way. In other words, USD 178 round-trip.
Liberia airport transportation – popular routes and destinations