LIR SHUTTLE
Liberia Airport Transportation
"If you need a shuttle from the Liberia Airport look no further! LIR Shuttle have been nothing but amazing to deal with. Not only are they very reasonably priced, but they are very quick to get back to you with your questions."
"Wonderful experience using LIR Shuttle! We booked them round trip from Liberia Airport to Tamarindo. Two different drivers, but the vans were clean and both drivers were so lovely and accommodating."
---
LIR Shuttle is a Liberia Airport transportation operator. We specialize in private transportation services. Our private transfers connect Liberia Guanacaste Airport with over 100 hotels and communities in Costa Rica. We also operate point-to-point, private transfers between destinations in Costa Rica. A worry-free and stress-free way to visit some of the most popular attractions in Costa Rica. Our goal is to provide the best Costa Rica transportation service to make your vacation an effortless and pleasant experience. Get a quote today, and let us know how we can help.
In the meantime, see what customers have said about us on TripAdvisor and Google Reviews. Or visit our Instagram account and see what beautiful Costa Rica offers to visitors. Also, let us know if you have any Liberia Airport Transportation questions.
LIR Shuttle Operating Hours
Our airport transfers operate 24 hours a day, seven days a week, and meet all flights – private and commercial. Thus, early morning or late night pick-up times are not a problem. To request our services, please fill out our quote request form. We will then send you the price based on the information you provide. If you need immediate assistance, please call us at +506 8302-2524.
Reservation modifications
You can make modifications up to 24 hours before arrival in Costa Rica. After that, any modification is subject to availability and must requested via email. No costs are associated with modifications unless the destination and number of passengers change. Last-minute modifications because of flight delays or cancellations cancellations are free of charge.
Baggage allowance
Technically, there is no maximum baggage allowance in our airport shuttles. You can fit as many bags and luggage as possible in our vehicles. But we ask that you let us know if you will travel with overweight or oversized baggage. We need this information to choose the right vehicle for your shuttle service. Also, you must let us know in advance if you are traveling with surfboards or surfboard bags.
Traveling with pets
Traveling with pets is allowed in all our airport shuttles. But for safety reasons, pets must travel in their pet carriers. You can request stops to let your pet out if needed. Our drivers will be happy to accommodate your pets' needs. Moreover, there is no extra charge for traveling with pets in our transfers.
When To Book Your Liberia Airport Transportation
We recommend booking your Liberia Airport Transportation as soon as you book your flight to Costa Rica. This is especially important if you plan to travel around Christmas and New Year's Eve. However, we are flexible and can arrange transportation up to 6 hours in advance. If you are at the Liberia Airport and don't have a reservation, we can also help. Call or message us, and we will try to match you to the nearest driver and van. Although we don't guarantee availability, we will do our best to assist you.
Reservation/Cancellation Policy
1) Payment is due when you receive your reservation confirmation.
2) Reservations canceled less than 24 hours before arrival in Costa Rica incur a fee equal to the first transportation service in your reservation. The remaining services, if any, will be fully refunded.
3) Reservations canceled more than 24 hours before arrival in Costa Rica are eligible for a full refund minus a $9 USD processing fee.
4) Cancellations after arrival in Costa Rica are considered a "no-show" and are not refundable.
Car seats
We can provide up to two car seats per Liberia Airport transportation service. The cost is $10 USD per car seat or booster. However, we recommend that you bring your car seats. Our drivers can assist with your car seat installation, but you must be familiar with it. Please note that not all vehicles have 3-point seatbelts. So, plan on installing your car seat with only lap belts. Costa Rica regulations do not require 3-point seatbelts, only front seats.
LIR Shuttle Fleet
LIR Shuttle transfers are operated in our own fleet of SUVs, vans, minibusses, and coach buses. All are 2018 or newer and are air-conditioned for your comfort. They also meet or exceed international safety standards and are meticulously maintained to guarantee safety and comfort.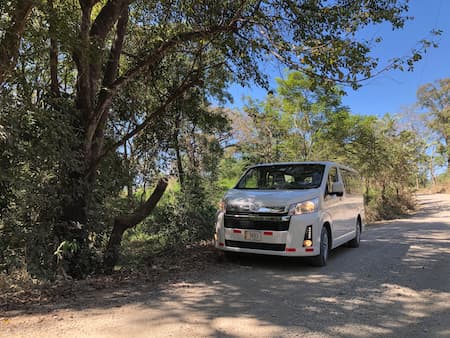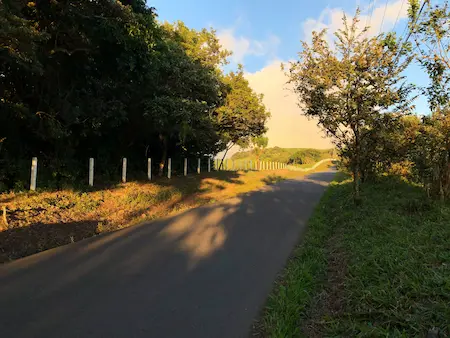 Liberia Airport Transportation Destinations
From Liberia Airport (LIR), LIR Shuttle can take you to almost any place in Costa Rica. Give us an address, and our vans and drivers will get you there (if the road permits it). However, some destinations are more popular than others. So, we have compiled the following information on the most popular hotels and destinations our shuttles go to. Need help to find your destination? No problem. Fill out our shuttle request form, and we will send you more information. Do you have a question about how to book a Liberia Airport Shuttle? Visit our Liberia Airport Transportation booking information page.
Liberia Airport Transportation To Andaz Papagayo
The Andaz Papagayo is our most popular destination by far. We have dedicated a page with information about airport shuttles, private transfers, and tours from the Andaz. Check the Liberia Airport to Andaz Andaz Costa Rica page for more information. Please also visit our page for tours from Andaz Costa Rica.
Dreams Las Mareas
The Dreams Las Mareas is also a popular destination from Liberia Airport. It takes roughly 1 hour and 45 minutes to reach the resort. One of the perks of this trip is the excellent views of Rincon de La Vieja and Orosi volcano views. Here is the Liberia Airport to Dreams Las Mareas transportation page for more information.
El Mangroove Hotel
El Mangroove Hotel is the closest beachfront hotel to Liberia, Guanacaste Airport. It only takes 25 minutes to get to the hotel. And LIR Shuttle is the most economical and convenient way to get there – guaranteed. Liberia Airport transportation to El Mangroove Hotel starts at $59 USD one way.
Four Seasons at Peninsula Papagayo
The location of the Four Seasons Resort is second to none. Its pristine beaches and forests showcase this luxurious property. And our private airport shuttles are the best way to get there. Driving time from Liberia Airport to Four Seasons Costa Rica is approximately 45 minutes each way. Prices start at $89 USD.
Liberia Airport Transportation To JW Marriott Guanacaste
The distance between the LIR Aiport and the JW Marriott Guanacaste is 75 kilometers. However, the last few kilometers are a bit bumpy. As a result, the drive could take as long as 1 hour and 30 minutes. But LIR Shuttle's vans will make the trip comfortable and safe. LIR Shuttle is your best option for Liberia Airport Transportation to the JW Marriott Guanacaste.
La Fortuna (Arenal Volcano)
La Fortuna is one of the most visited destinations in Costa Rica. Its main attractions are the Arenal Volcano, the lush tropical forests, and Lake Arenal. That's why thousands of tourists visit each year. Getting there from Liberia Airport is also very scenic. So enjoy the colorful small towns along the way. Plan on 2 hours and 40 minutes of driving time.
LIR Shuttle to Las Catalinas
Las Catalinas is home to Casa Chameleon and Santarena Hotel. But above all, right on beautiful Danta Beach. Shuttle transportation takes about 1 hour to get here from Liberia Airport. Prices start at $99 USD one-way.
Liberia Airport to Nicaragua Border
The Liberia Guanacaste Airport is an excellent alternative for travelers going to Nicaragua. The border is only 1 hour and 45 minutes away, and prices start at $119 USD one-way. Get a Liberia Airport transportation quote today.
Liberia Airport Transportation To Monteverde
Monteverde is famous for its cloud forest. It is a unique ecosystem where trees get most of their water from the clouds that pass through their canopies. This particularity makes this forest rich in flora and fauna. And some animals and plants can only be found high on trees. That's why the hanging bridges in Monteverde are a must. The shuttle from Liberia Airport to Monteverde takes approximately 3 hours. The road is bumpy, but the memories are worth it. Prices start at $189 USD one way.
Santa Teresa and Malpais
LIR Shuttle's private transfers between Liberia Guanacaste Airport and Santa Teresa and Malpais take approximately 4 hours and 30 minutes. This transportation service runs 24/7, 7 days a week. It is quite a long trip. So feel free to ask your driver to stop to eat, take a break, or stretch your legs. Private transfers to Santa Teresa start at $309 USD one way. Get a quote today.