Liberia Guanacaste Airport (LIR)
Table of Contents
Liberia Guanacaste Airport (LIR): A Comprehensive Guide
Guanacaste is a vibrant and diverse travel destination nestled between the Pacific Ocean and Costa Rica's northwest mountains. But did you know that Liberia Guanacaste Airport (LIR) is a gateway to the wonders of this lush Central American country's Guanacaste Province? With its convenient location and accessibility to popular tourist destinations, LIR Airport is the perfect starting point for your Costa Rica adventure.
In this article, we share the ins and outs of Liberia Guanacaste Airport, touching upon its location, major airlines, ground transportation options, and nearby attractions. So buckle up and prepare to be inspired by the wonders that await you in the land of Pura Vida!
Liberia Guanacaste Airport Key Takeaways
Discover daily nonstop flights and ground transportation options.
Explore nearby attractions such as La Leona Waterfall, Volcan Tenorio National Park, Peninsula Papagayo, and the Rincon de La Vieja National Park.
Navigate LIR airport efficiently with government agencies and resources like LIRairport.com for comprehensive information about the airport.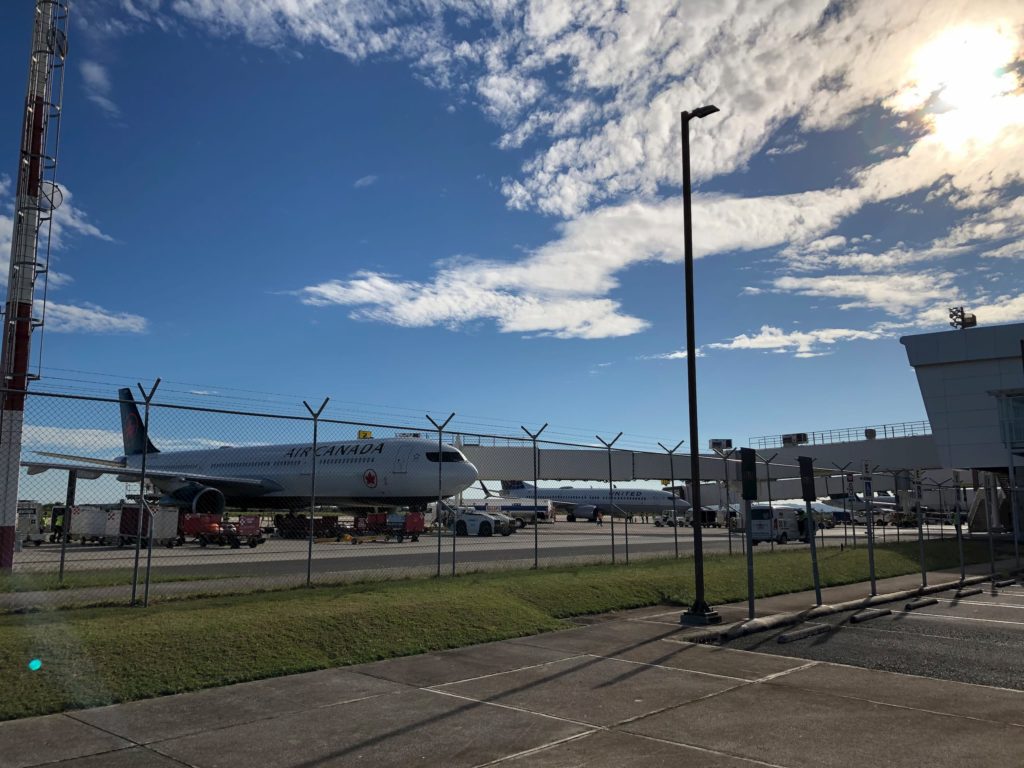 Discovering Liberia Airport Costa Rica
Daniel Oduber Quiros International Airport, also known as "LIR Airport" and most commonly referred to as Liberia Guanacaste Airport, is the second most important airport in Costa Rica. Located in a rural area near the Guanacaste's capital city of Liberia, LIR Airport serves as a convenient entry point for travelers seeking to explore the country's:
Pacific coastline
Pristine beaches
National parks
Luxury resorts
With its proximity to popular tourist destinations such as Peninsula Papagayo and Tamarindo Beach, Liberia Airport allows travelers to maximize their vacation time and visit various attractions within driving distance.
Travel planning is also made significantly easier as major airlines such as Delta, United, Southwest, Alaska Airlines, and American Airlines offer daily nonstop flights to LIR. So, whether you're a seasoned traveler or visiting Costa Rica for the first time, Liberia Guanacaste Airport is ready to welcome you with open arms!
A Brief History of Liberia Guanacaste Airport
The Liberia Guanacaste Airport was born in 1975 as a dusty rural landing strip called Llano Grande. Its short and narrow runway only received local flights operated in small planes. In 1977, the Ministries of Transportation and Tourism recognized the airport's strategic location.
It wasn't until 1995 that the airport was finally ready to receive international commercial flights. With a new and improved 2760-meter by 45-meter runway, the Liberia Airport received its first commercial flight from Miami, Florida. In January 2012, a new and modern 25000m2 terminal was inaugurated to accommodate the ever-increasing number of travelers flying into the Liberia Costa Rica Airport.
Major Airlines Serving Liberia Guanacaste Airport
Major US and Canadian airlines provide daily nonstop flights to Liberia Airport. Here is a partial list of direct flights as of September 2023:
All these major airline routes ensure travelers can easily reach their destination in Guanacaste.
With global connections and convenient schedules, these airlines mainly cater to the needs of passengers arriving from the United States and Canada. But various airlines are now also connecting LIR Airport with Europe.
LIR Airport Codes
Liberia Guanacaste Airport has two international codes:
International Air Transport Association (IATA) Code: LIR.
International Civil Aviation Organization (ICAO) Code: MRLB.
LIR Ground Transportation Options
Upon arrival at Liberia Guanacaste Airport, a range of ground transportation options, such as shuttle services, private transfers, and airport taxis, are at your disposal, designed to meet every traveler's needs. Whether heading to a popular resort or embarking on an adventure to explore Costa Rica's national parks, local tour operators are ready to provide convenient and reliable transportation services that can be reserved in advance.
Private shuttles
Private airport shuttles run at the time of your choice. As soon as you have cleared customs and immigration, a driver will meet you to take you to your destination. Hence, no time is lost waiting around for other passengers riding with you. The cost is generally higher than shared shuttles. But the advantages are clear. Check our LIR Shuttle's private transfer destinations on Instagram.
Shared shuttles
Shared shuttles are a good alternative for single travelers or couples on a budget. Shared shuttles will wait for passengers arriving on different flights. So please be patient with your operator as sometimes delays will happen. Also, waits of 40 to 50 minutes at the airport are not uncommon.
Public buses
Another transportation option from Liberia Airport is the public bus system. Buses between the Liberia Guanacaste Airport and Liberia City run every 30 minutes from 4:30 AM to 10:00 PM. Once in Liberia City, you can connect to destinations like Tamarindo, Flamingo, Playa Grande, Playa Conchal, and Playas del Coco.
The public bus system is the cheapest option to travel to and from the Liberia Airport. But there are a few things to consider if you would like to use this option:
Public buses are not air-conditioned.
Seating is not always guaranteed.
Travel time significantly increases. For instance, a private shuttle between Liberia and Tamarindo takes approximately 1 hr. By public bus, it can take up to 2.5 to 3 hours.
No luggage compartments are available on public buses.
For some hotels, you will need to walk some distance to get to the lobby.
Knowing some Spanish is highly recommended. Connections and times are not always clearly posted, so communication with riders or drivers will be required to navigate schedules and stops.
Car rentals
Renting a car at the Liberia Airport is also possible, whether you have a car rental reservation or not. There are car rental representatives for the major car rental companies at the airport. For availability reasons, making a reservation in advance is recommended. This is particularly true for the peak and high season months of December, January, February, March, and April.
Some of the most trusted car rental companies at Liberia Airport are:
Liberia Airport taxis
If you do not wish to make a reservation for the private or shared airport shuttle service in advance, airport taxis are available 24/7/365. Note that rates can be 30% to 40% higher than airport shuttle services, especially on peak days like Easter Week, Christmas, and New Year's eve. Also, most taxis are small, economy sedans without air-conditioning.
Popular Resort Private Transfer Services
Popular resort shuttle services like LIR Shuttle are at your disposal to whisk you away to your dream vacation destination. LIR Shuttle offers private transportation to cater to individual preferences and requirements. Private transfers provide door-to-door service and a more personalized experience that can be reserved beforehand. On the other hand, shared shuttle services offer a more budget-friendly option, allowing travelers to share rides to and from the airport while still enjoying the convenience of pre-booking.
Comparing LIR with San Jose Airport (SJO)
During trip planning to Costa Rica, a common dilemma for travelers is choosing between Liberia Guanacaste Airport (LIR) and SJO Airport. While both airports serve as gateways to this beautiful country, there are certain advantages to choosing LIR over SJO. Due to its smaller size, LIR allows easier access to the Pacific coastline and northwestern surfing spots without having to traverse the country. Additionally, from personal experience, Immigration and Customs processing times at LIR are significantly shorter than those at San Jose SJO Airport, allowing travelers to start exploring Costa Rica sooner.
Of course, there are factors to consider when choosing between the two airports, such as flight availability and proximity to specific destinations. Ultimately, the decision between Liberia Airport and San Jose Airport will depend on individual travel plans and preferences. Rest assured, no matter which airport you choose, the wonders of Costa Rica await.
Exploring National Parks
The national parks near Guanacaste Airport exemplify Costa Rica's renowned rich biodiversity and stunning natural beauty. Some of the parks that await exploration include:
Parque Nacional Rincón de la Vieja
Palo Verde National Park
Tenorio National Park
Las Baulas National Marine Park
Cabo Blanco Absolute Natural Reserve
To make the most of your visit to these natural wonders, popular transportation options include rental cars, shuttle services, and private transportation. As you immerse yourself in the luxuriant rainforests and take in the breathtaking scenery, you'll encounter a range of wildlife, from monkeys and sloths to toucans and more. The memories you create in these parks will surely last a lifetime.
These services cater to various preferences and requirements, ensuring every traveler can enjoy a hassle-free journey. To reserve customized transportation services, contact the airport directly or book online. By taking advantage of these tailored options, you'll enjoy personalized transportation arrangements' convenience, flexibility, and cost savings.
Nearby Attractions and Activities
To make the most of your Costa Rican adventure, explore the nearby attractions and activities the Guanacaste region offers.
Explore the enchanting La Leona Waterfall, discover the fascinating wildlife of Volcan Tenorio National Park, and experience the thrilling adrenaline combos tour at the Rincon de la Vieja National Park. You can also quickly drive to the world-famous Arenal Volcano and Monteverde Cloud Forest within 3 hours' driving time from the airport.
Additionally, for those traveling to Nicaragua, the Liberia Guanacaste Airport is only 1 hour and 45 minutes south of the border, making it a much more accessible alternative to the Managua, Nicaragua International Airport.
La Leona Waterfall
The breathtaking La Leona Waterfall is situated just 25 minutes from Liberia, in the town of Curubandé. This captivating waterfall cascades into a vivid orange canyon, creating a mesmerizing blue swimming hole at its base. Visiting La Leona Waterfall is a must for anyone seeking to experience Costa Rica's natural beauty.
Volcan Tenorio National Park
Volcan Tenorio National Park, located in the Guanacaste Volcanic Mountain Range, offers visitors the opportunity to:
Explore its lush rainforest
Marvel at the stunning views of the volcano
Engage in outdoor activities such as hiking, bird watching, and horseback riding.
The park is home to diverse wildlife, including monkeys, sloths, and toucans. It also boasts the exquisite Celeste Waterfall, making it a must-see attraction during your Costa Rican adventure.
Adventure Combo Tours
The adrenaline combo tour is the perfect way for thrill-seekers to experience the excitement of Costa Rica's great outdoors. This action-packed adventure combines zip-lining, rappelling, and river tubing for an unforgettable experience.
To arrange the adrenaline combos tour, complete the form through Liberia Airport Shuttle services and prepare for a day filled with fun and excitement!
Navigating Liberia Airport Costa Rica
Liberia Airport, also known as Liberia Guanacaste Airport, is operated by a combination of government agencies and the private sector, ensuring travelers' smooth and efficient experience. Commercial real estate at LIR Airport is primarily managed by CORIPORT S.A., with the remainder belonging to Vinci Airports.
The operation of LIR involves various government agencies that play significant roles. These include:
The Servicio Nacional de Aduanas (customs), which is responsible for customs procedures
The Directorate General of Migration and Immigration (DGME), which oversees immigration control at all entry points in Costa Rica
The Servicio de Vigilancia Aerea (SVA), is in charge of terminal and runway perimeter security, as well as manning checkpoints before entering the departure gates.
Lastly, DIGAC manages airport runway and control tower operations, ensuring air traffic's safe and efficient flow.
About LIRairport.com
LIRairport.com is a non-official website providing travelers with valuable information about Liberia Guanacaste Airport. The website aims to equip travelers with useful information regarding LIR, including:
Flight schedules
Ground transportation options
Attractions
Activities in the vicinity
LIRairport.com, with its comprehensive and up-to-date information, is a useful resource for travelers planning a Costa Rican adventure.
Food At LIR Airport
The food at the Liberia Guanacaste Airport is ok. The options are limited and pricy but available if you need to grab a bite at the airport.
As of September 2023, these are the food options available:
Bar Imperial
Player's Cafe
Britt Cafe Bakery at Liberia Guanacaste Airport
Duty-free Store
IMAS has two duty-free stores at Liberia Guanacaste airport. The arrivals store is open from 9:00 am to 10:00 pm Mon-Sun. The departures the store is open from 5:00 am to 4:00 pm Mon-Sun.
The arrivals store sells the following items:
Perfumes
Liquors
Electronics
Luxury items
Duty-free store at LIR Airport arrivals area.
The departures store sells the same item plus souvenirs.
Duty-free store at LIR Airport departures area
Lost and found
You will contact your airline, airport security, or both to locate an item lost at the Liberia Guanacaste Airport. For items left at luggage claims or the airplane, contact your airline. For items misplaced after going through immigration and customs, you will need to contact airport security.
Please note that the item will be in either your airline or airport security custody if it is turned in to them or if they find it. Therefore, check with both to see if they have your item.
Parking
Short and long-term parking at Liberia Guanacaste Airport is, as of SEP 2023, free. The parking area is east of the main terminal building and is not paved or covered. Take this into account if parking long-term (if parking long-term, try to use a cover for your vehicle). Also, do not leave valuables inside your car.
Liberia Guanacaste Airport hotels & accommodations
The closest hotel to the airport is the Hilton Garden Inn Liberia Airport. Also, there is Hotel Santana, a budget hotel located about 5 minutes east of the airport. Additionally, there is the Best Western El Sitio in Liberia City.
In addition, these Airbnb properties are located within 10 minutes of the airport:
https://www.airbnb.com/rooms/17360469
https://www.airbnb.com/rooms/45090563
Summary
In conclusion, Liberia Guanacaste Airport (LIR) serves as an ideal gateway to the wonders of Costa Rica. With its convenient location, major airlines offering daily nonstop flights, and a variety of ground transportation options, LIR is the perfect starting point for your Costa Rican adventure. From exploring nearby attractions like La Leona Waterfall and Volcan Tenorio National Park to enjoying thrilling activities like the adrenaline combo tour, there's no shortage of excitement waiting for you in the land of Pura Vida.
As you embark on your journey to Costa Rica, we hope this comprehensive guide to Liberia Guanacaste Airport has provided you with valuable information to make the most of your trip. Here's to a memorable adventure filled with breathtaking sights, unforgettable experiences, and the warmth of the Costa Rican spirit!
Frequently Asked Questions
Which Airport Should I Choose if Flying to Guanacaste, Costa Rica?
Fly into Liberia International Airport (LIR), also known as Daniel Oduber Quirós International Airport Guanacaste Airport, for Guanacaste Costa Rica – it is the second main international airport in the country situated near Liberia City.
How early should you get to Liberia Guanacaste Airport?
To ensure enough time to go through customs and immigration, arrive at Liberia Airport Costa Rica at least 2 hours before your scheduled departure time.
Make sure you have your valid boarding pass and all baggage received by the airline before the cut-off times for the airport.
Is it better to fly into SJO Airport or LIR?
For most destinations in Guanacaste, Liberia Airport is the closest, making it the better choice. San Jose Airport is the more convenient option for the Central or Southern Pacific coast.
What are the major airlines that offer daily nonstop flights to Liberia Airport?
Delta, United, American Airlines, Alaska Airlines, JetBlue, Air Canada, Westjet, Spirit Airlines, Southwest Airlines offer daily nonstop flights to Liberia Airport, giving travelers convenient options for reaching their destination.
What types of ground transportation options are available at Liberia Guanacaste Airport?
At Liberia Guanacaste Airport, travelers can utilize shuttle services, private transfers, and airport taxis for ground transportation.