Liberia Airport to Tamarindo
Liberia Airport to Tamarindo Transportation
Getting from Liberia Airport to Tamarindo
Travel time from Liberia Airport (LIR) to Tamarindo is approximately 1 hour and 30 minutes one way. During holidays like Holy Week, Christmas, and New Year's Eve, this time could increase significantly due to heavy traffic. Weather can also be a factor when traveling from Liberia Airport to Tamarindo, so for returns to LIR Airport, plan on leaving at least 3 hours and 30 minutes before your flight's scheduled departure time.
Eg: If your flight departs LIR Airport at 9:00 AM, the departure time from Tamarindo should be no later than 5:30 AM. This example only applies to private transfers.
If you have any questions about transportation between Liberia Airport and Tamarindo, please let us know. We will be happy to answer them.
Private Airport Transfers
Private Liberia Airport transportation services between Liberia Costa Rica Airport and Tamarindo meet all flights as soon as they arrive. Additionally, there is no waiting time involved at the airport, and you will be driven directly to your destination in Tamarindo as soon as you exit the terminal. Also, private airport transfers run 24/7 and include unlimited waiting time in case of flight delays. Prices for private transfers between LIR Airport and Tamarindo start at USD 89 one-way.
Shared Airport Shuttles
IMPORTANT: Due to low demand the shared shuttle service to Tamarindo is no longer available. Only private transportation services are available.
Shared shuttles between LIR Airport and Tamarindo operate daily. Departure from Tamarindo to Liberia Airport is at 7:00 AM. Return from LIR Airport to Tamarindo is at 3:00 PM. The cost per person is $29 USD, one-way. To request availability, please use the following link:
Public Bus
The cheapest way to get to Tamarindo is the public bus that stops at Liberia Airport on its way to Tamarindo. The rate per person is $4 USD and travel time is approximately 2 to 2.5 hours one way. Please note that this service is very popular and it is not guaranteed that you will have a seat available. Also, the service is not operated in air-conditioned buses and it does not reach all hotels in Tamarindo.
The schedule below can change at any time. However, we will try to keep it as up-to-date as possible, but please don't use it for flight planning purposes. This is especially true if you plan to catch a flight out of Liberia Airport and would like to use the Tamarindo public bus.
You can also visit the Transportes La Pampa Facebook page for up-to-date schedule information (all information in Spanish).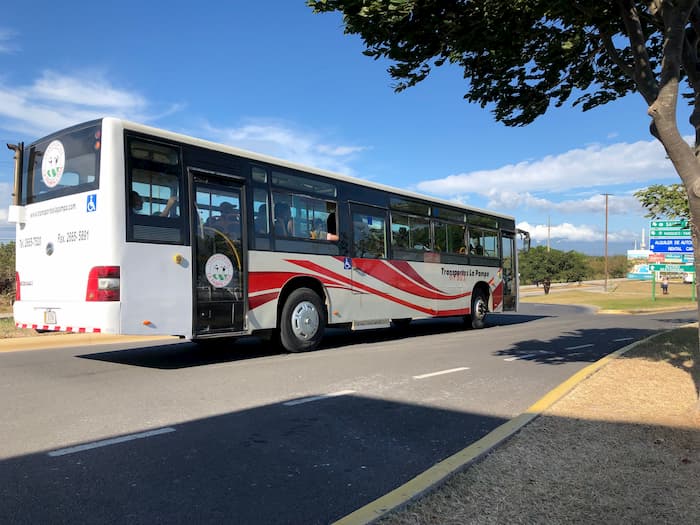 Tamarindo Public Bus Schedule
| | |
| --- | --- |
| Stops by Liberia Airport (LIR) | Departs Tamarindo |
| 5:30 AM | 5:00 AM |
| 11:30 AM | 11:00 AM |
| 2:30 PM | 2:05 PM |
| 6:30 PM | 5:00 PM |
LIR Airport to Tamarindo Map