About Liberia airport
Since its first international commercial flights in 1995, Liberia Costa Rica Airport (officially named Daniel Oduber Quirós International Airport) has been growing at a steady pace to become the second most important airport in Costa Rica, and the sixth busiest in Central America. Located only a few minutes west of the city of Liberia, Guanacaste, the airport is strategically located in Costa Rica's northwest region, making it the airport of choice for travelers looking to enjoy Costa Rica's sunny west coast. This is a brief guide for those flying into Liberia Costa Rica Airport. We hope you find it useful.
Liberia Airport Arrivals | Liberia Airport Departures
Costa Rica entry requirements
Before traveling to Costa Rica, make sure that you meet the minimum entry requirements for your country of citizenship or residency. Here is a list of those minimum requirements, but please check to see if you might be subject to additional entry requirements for your country of citizenship or permanent residency by visiting Costa Rica's official immigration website. Also, take into account that during the COVID-19 pandemic additional entry requirements need to be met. You can see a list of those extra requirements here.
List of basic entry requirements:
1) A passport or valid travel document. Your Passport must have a minimum validity upon entry in Costa Rica. For Canadian, US, and EU citizens the minimum passport validity is 1 day. For example, if you arrive in Costa Rica on January 1st, 2021, and your passport expires on January 2nd, 2021, you will have no problem entering Costa Rica. However, if you arrive on January 1st, 2021, and your passport expires on January 1st, 2021, you will not be allowed into the country.
2) A consular Visa if one is required for your country of citizenship or residency (you can see a full list of who needs a consular Visa here).
3) You must prove economic sufficiency during your visit to Costa Rica. The minimum economic sufficiency is calculated at $100 USD for each month of legal permanency in the country. For example, if you plan on staying in Costa Rica for 1 month, you must show $100 USD in funds for your trip. If coming for 2 months, you must show $200 USD in funds, and so on and so forth.
4) A bill, ticket, or voucher for the continuation of your trip. Your airline's round-trip airfare confirmation is enough. If you have it on your phone or tablet be ready to show it to your immigration officer.
Airport departure tax
A $29 USD airport departure tax is levied on all airplane tickets out of any of Costa Rica's international airports. And although some airlines still do not include this fee in their tickets, most do include this fee in their airfares since 2015. Below you will find list f airlines that currently include the $29 USD departure fee in their airfares. If your airline is not listed here, or if you are flying privately to Costa Rica, you will have to pay the exit fee at the authorized collection office at the Liberia Costa Rica Airport.
Partial list of airlines that already include the Costa Rica airport exit fee in their airfares:
Liberia Costa Rica airport location
Liberia Costa Rica Airport coordinates: 10.601116, -85.536439
Located only 20 minutes (22 Km) from the nearest beach, Liberia Costa Rica Airport's location makes it the most convenient airport to fly into if you are looking to enjoy Costa Rica's sunny northwest coast. Popular beach towns like Playas del Coco, Peninsula Papagayo, Tamarindo, Flamingo, and Playa Conchal are within 1 hour and 30 minutes from the airport. Other beach towns like Samara and Nosara are within 2 hours and 45 minutes from the airport.
Some of Costa Rica's most visited National Parks are also within easy reach from the airport. The Rincon de La Vieja National Park is only 45 minutes away from the airport, and the world-famous Arenal Volcano and Monteverde Cloud Forest are both within 3 hours driving time from the airport.
Additionally, for those traveling to Nicaragua, the Liberia Costa Rica Airport is only 1 hour and 45 minutes south of the border, making a much easier alternative to the Managua, Nicaragua International Airport.
Getting to and from the Liberia Costa Rica airport
Liberia Airport Shuttles
The most popular transportation option to get to and from your destination, from the Liberia Costa Rica Airport, are the Liberia Airport Shuttle services you can hire ahead of your arrival in Costa Rica. These are run by many companies and are offered as private and shared services. We recommend you do a little research before booking to make sure you find the most appropriate airport transportation.
Airport Taxis
If you do not wish to make, or cannot make, an advanced reservation, you also have the option of local airport taxis. One important factor to consider is that airport taxis are, for the most part, small Korean sedans that often run without A/C and are generally too small if you are carrying a lot of luggage. Also, ricing is extremely flexible, so try to bargain the price down a bit before agreeing to be taken to your destination. For your safety, make sure that the car you are getting on is red and has its license plate correctly stated on its doors.
Public Airport Buses
Public transportation is also accessible from the airport and can connect you to basically anywhere in the country. If you opt for this option, we highly recommend you speak some Spanish.
Public buses run between the Liberia Costa Rica Airport terminal and Liberia City every half hour from 5:30 AM to 10:00 PM. The fare is about $1.3 USD per person and travel time is 15-20 minutes. From Liberia City's municipal bus station you can connect to places like Tamarindo, Flamingo, Costa Rica/Nicaragua border, Nicoya, San Jose, and Puntarenas.
Parking at Liberia Costa Rica airport
If you choose to drive to the airport, there are short and long-term parking spaces available for free as of September 2020. These spaces are located east of the terminal and can be easily recognized by their gravel surface. This area is patrolled by airport security but remains a publicly accessed area, so please use caution and do not leave valuables inside your car.
For long term parking, a car cover that is well anchored to your vehicle is highly recommended for protection. Take into account that the area around Liberia Airport is very windy, especially between the months of December and March. Also, it is recommended that you park your car facing the airport terminal to avoid excess dust and small debris to accumulate in the engine bay area of your vehicle (winds blow from east to west during the windiest months).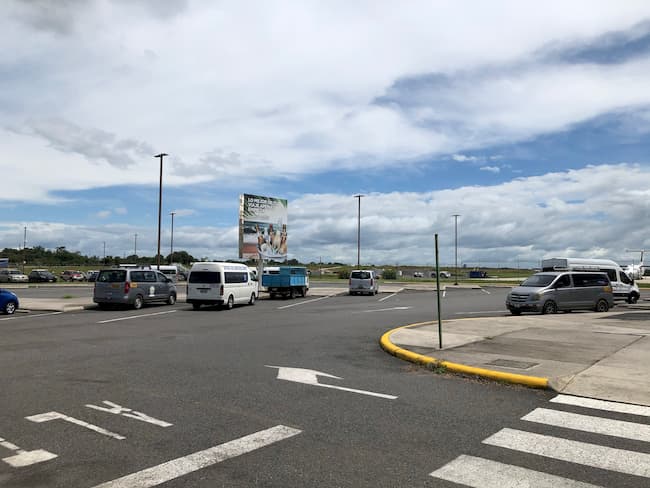 Short term parking area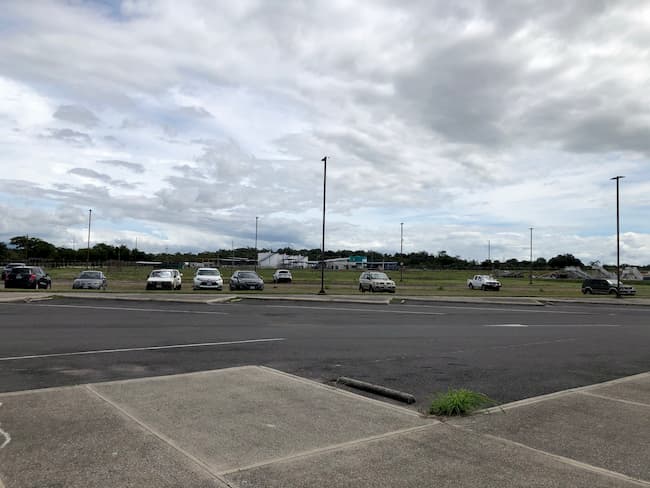 Long term parking area